Longdean School which is based in Hemel Hempstead in Hertfordshire, has received funding which they are using towards the ongoing construction of a large wildlife pond to support their students in learning about the natural environment.
The school had already completed the first phase of the project which is designed to provide a facility for science and art, whilst boosting motivation, performance and wellbeing. They applied to CPL Group for funding for the next stage which is to bring the pond to life with the final important features including landscaping, placing stones to create a shelf, basin and small reef, together with planting of oxygenating and native pond plants.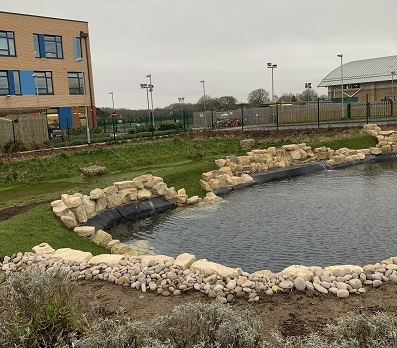 Pat Condon, Head of Procurement at Crescent Purchasing Consortium (CPC), part of CPL Group presented Longdean School with a cheque for £7,500. Tracy Doyle the Finance Director at the school said:
Creating a wildlife pond is a project we have been working on for over a year. Our aim is to provide a haven both for insects and amphibians and for our students to get out of doors and engage with the natural environment. This grant from CPL Group has come at just the right time, allowing us to create a reef, edging stones and planting so that the pond can come alive.
Peter Brewer, Managing Director at CPL Group said:
We are so pleased to make this award to Longdean School and provide the funding they need to complete an outdoor learning environment at the school which everyone can enjoy. We hope to follow the development of this project as it is very unique. We can't wait to make more funding awards soon.