In an era where every penny counts, the needs and aspirations may often stretch the budgets of our educational institutions. Our workforce is immensely proud to see the difference and impact our 'Giving Back' work has provided for young people lives across the UK. We continue to celebrate how this support as a result of their hard work is advancing teaching and learning which will leave a lasting legacy for the next generation of future leaders.

We will be launching another funding window in the autumn of 2023, so keep a look out for updates!!!
---
Who we are
The CPL Group is the brand name for Crescent Purchasing Limited, an education sector owned charity based in Salford, Manchester. The CPL Groups mission is to deliver outstanding procurement services. The vision is to become the first-choice procurement partner for the education sector, and through our work enhance teaching and learning, by giving back to the core education sector in a variety of ways.
Since the 'Giving Back' formed in 2019, to date, over £1.1 million has been designated for re-investment in the form of various projects with the largest amount being used specifically for awarding non-refundable grants to our members. So far £547k of grants have been "given back" to 101 institutions. The funding has supported a wide range of educational projects fulfilling our criteria of:
Enhancing Teaching and Learning
Improving a child's experience of education
Helping disadvantaged children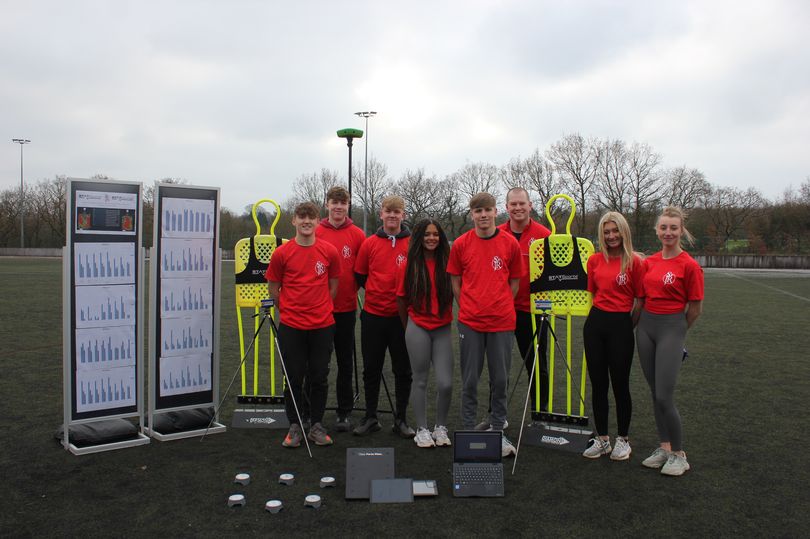 Salford charity backed by Team GB Olympian that's helping children during cost of living crisis
This support is much needed and has been warmly welcomed by educational institutions in this era of economic decline and cost of living crisis.
Being the keynote speaker at the forthcoming 'CPL Giving Back to the Future' 2022 conference, will be an honour, I look forward with anticipation to meeting some of the students who have benefited from the CPL Group's charitable work as beneficiaries. The work of the charity is far reaching and has clearly touched the lives of so many students, who might not have benefited otherwise. The broad spectrum of initiatives supported, demonstrates the significant impact this funding is having, I personally am looking forward to seeing what the next funding window of opportunities brings.
---
Giving Back success stories
Hopwood Hall
Greater Manchester's Hopwood Hall College benefitted from a unique, interactive programme as part of its project to effectively harness technology to enhance and protect its environment.
This project will enable Hopwood Hall College to further enhance its existing learner enrichment programme to include a strong focus on sustainability and protecting the world we live in. This will be achieved by using a unique interactive programme, which provides them with greater insight into the challenges we face regionally, nationally, and internationally in reducing carbon emissions and ultimately global warming.
We really appreciate the generous contribution that the CPL Group made to our technology provision through its Giving Back scheme. The funding has supported us to acquire some advanced technology equipment, including our Eco-house, which is enabling students to advance their skills to get ready for employment, an apprenticeship or Higher Education. This contribution comes as we continue to invest in the expansion of our state-of-the-art Technology Centre in readiness for the new and transformative skills that are so crucial to the green agenda. The CPL Giving Back contribution has really helped to enhance our students' learning experiences.
St John Rigby College
Giving Back has contributed to a variety of sporting initiatives such as, Sport and Exercise Science Performance Analysis' project at St John Rigby College. The project included the purchase of a force plate which measures ground reactive forces, GPS player vests to improve performance and track player activity with heat maps measuring data to the accuracy of 10 points per second whilst also providing information on distance travelled and heart rate, along with blaze pods and timing gates.
Our students have massively benefited from the CPL Giving Back funding, it's been a joy to see them using the fitness tests, the reaction pods but in particular for me the GPS vests and the VO camera. The importance of performance analysis technology is key to our success and for students now being able to use industry wide standard technology has been key to raise the aspirations of our students at the beginning of their sporting careers and helping us fulfil our mission.
---
Other initiatives funded by the CPL Group
Hockerhill Anglo European College Funds were used to purchase wide range of new sports equipment, to encourage girls into participating in sport on the back of the success of England's football successes, women cricketers, and netballers. Facilities will also be offered to the wider community as a key venue for competitive and non-competitive sporting events across the region.
CPL has helped fund the development of a technology suite at Blackpool Sixth Form, facilitated the purchase of industry-specific IT equipment for Bishop Burton College in Yorkshire and provided both Farnborough College and Lancashire's Carr Hill High School with a wealth of portable kit for improved flexible and mobile learning.
With innovation-driving hardware bought for the Ted Wragg Multi Academy Trust in Devon, the Group has been able to provide Staffordshire's Clayton Hall Academy with a laser cutter for engineering classes, as well as a dynamometer for north Wales' Coleg Cumbria.
While technology inevitably leads the charge, the Group's contributions have extended to traditional learning methods, with substantial library book funding for Archbishop Holgate's School in York, teaching materials for the former Stephenson College in Leicestershire and financial backing for a reading and literacy-based project at Southampton City College.
As for music and the arts, the Group acted to fund the visit of a touring theatre production to Millbrook Primary School in Hertfordshire, as well as donating a figure to the tune of £5,000 for the delivery of a music programme across Cobham Free School in Surrey.
Wellbeing is one of the utmost challenges of our times and the Group's commitment to its own staff wellness is reflected by its charitable contributions across the education sector.
At the Jubilee Academy in Harrow, more than £10,000 in CPL Group donations have helped deliver additional specialist support activities for pupils suffering exam stress, self-confidence issues and low self-esteem.
Meanwhile, charitable donations made to London's Chelsea Academy, Taunton's Richard Huish College, and the Lighthouse Learning Trust (the latter approaching £15,000) have helped these institutions to enhance student wellbeing through a variety of approaches.
Another of today's most prominent societal issues pertains to our environment and the Group has been delighted to extend its charitability to several eco-conscious members. This has ranged from the funding of a week-long environmental education programme at Weymouth College to the creation of a large and well-received wildlife pond for Longdean School in Hemel Hempstead.
Projects assisted by the CPL Group's charitable objective have been widespread and wide-ranging, from a young bakers' academy being funded at Westminster Kingsway College to maths roadshows and coding workshops at Manchester's Loreto Sixth Form College.
This financial support has even extended way off-site, with the Group funding trips like an Access History visit to Dublin for Belfast Met University students to study the Easter Rising.
Furthermore, the Group has been continued supporters of the Duke of Edinburgh's Award scheme, supplying the Capital City Academy Trust with donations for replacement tents, providing St. Mary's Catholic Academy with various campsite equipment and financially facilitating the expansion of the Duke of Edinburgh's Silver Award programme for disadvantaged students at City of Liverpool College.
Being a charity has allowed the CPL Group and its board of trustees to make a positive impact on a multitude of learning communities, which has provided an extra layer of support on top of those everyday roles already played by the charity's procurement staff across the British Isles. We are immensely proud to see the positive impact this is having across the sector.
---
The full list of projects and education providers supported by the Group's charitable donations can be found on the CPL Group funding page. We encourage colleges, schools, academies, and trusts to watch out for the next round of funding application opportunities by signing up to our newsletter.