Cabinet Office issued their informative Green Paper in December 2020 with their subsequent response to consultation issued in December 2021.
In May 2022, The Procurement Bill began its passage through Parliament and is presently at the Committee Stage within the House of Lords. The diagram below lays out the processes that the Bill will need to pass through before it becomes law and is passed onto the statute books.
Bill Passage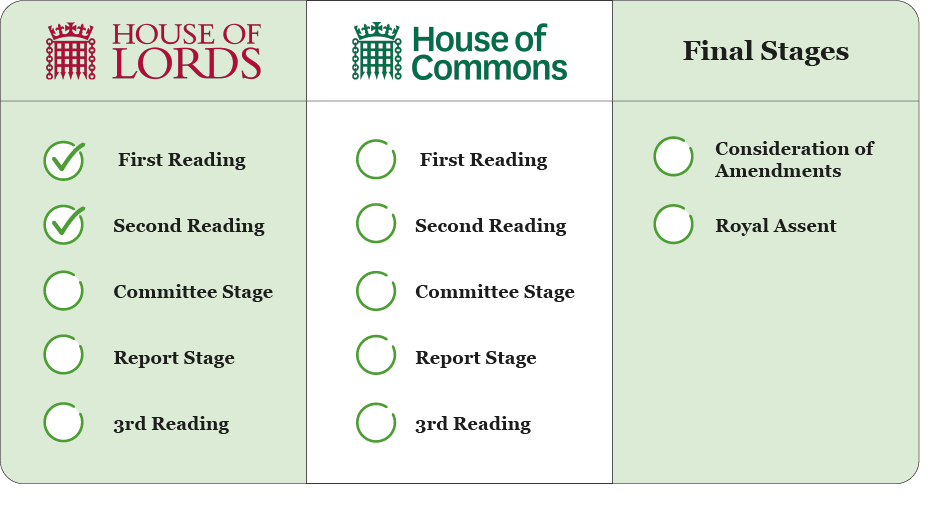 The Bill is presently at the Committee Stage within the House of Lords which involves detailed line by line examination of the separate parts (clauses and schedules) of the Bill. Any member of the House of Lords can participate in the reading of the Bill. During the committee stage every clause of the Bill has to be agreed to and votes on any amendments can take place. All suggested amendments have to be considered, if a member wishes, and members can discuss an issue for as long as they want. The government cannot restrict the subjects under discussion or impose a time limit. This is a key point of difference with procedure in the House of Commons.
As the Bill is amended it is reprinted with all the agreed amendments. At the end of committee stage, the Bill moves to report stage for further scrutiny. Planned timescales to move the bid from the House of Lords to the House of Commons are given below.
| | |
| --- | --- |
| Sitting Date | September 6th 2022 |
| Last proposed Sitting Date | September 8th 2022 |
Once the Bill has completed its passage through the House of Lords, it moves forward to the House of Commons where similar processes occur before the Bill eventually feeds through to completion and Royal Assent which is expected at the earliest in Spring 2023.
We are aware that changes to the Procurement Bill have been proposed in many areas and these are being presented as webinars by many legal firms as the process moves forward. Our advice would be to sign up for webinars via suppliers on the CPC Legal Services Framework who are offering these sessions usually at no cost.
If you wish to monitor the passage of the Procurement Bill through Parliament, you can access that here as well as accessing records of requested changes made to the Bill.
Once the Procurement Bill becomes law, then CPL Learning working collaboratively with Cabinet Office will bring various training options to our members to ensure that you are ready for when the Regulations go live which is planned for September 2023.